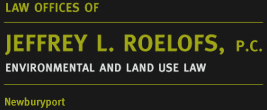 The Law Offices of Jeffrey L. Roelofs, P.C. represents clients in an array of matters involving federal, state and local environmental and land use laws. Representative matters include:

Permitting of complex or controversial development projects.


Contaminated properties in the context of real estate or business transactions, brownfields redevelopments, regulatory compliance, enforcement defense, and litigation.


Enforcement defense in actions initiated by local, state and federal regulators under a variety of environmental laws, such as those relating to wetlands, waterways, stormwater management, wastewater, solid waste and oil or hazardous materials.


Environmental impact review under MEPA (state) and NEPA (federal).


Transactions involving properties or businesses with environmental issues.
Attorney Roelofs has been selected for inclusion in The Best Lawyers in America publication in the practice area of Environmental Law since 2014.



HOME
|
JEFFREY ROELOFS
|
ELISABETH DeLISLE
|
PRACTICE AREAS
|
CLIENTS
|
CONTACT
The information you obtain at this site is not, nor is it intended to be, legal advice.
You should consult an attorney for individual advice regarding your own situation.
Copyright © 2007 by Law Offices of Jeffrey L. Roelofs, P.C. All rights reserved.