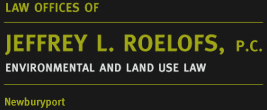 Law Offices of Jeffrey L. Roelofs serves a broad range of client types, including the following:
Large and Small Businesses
Developers (of a variety of project types, including residential, commercial, manufacturing and mixed-use)
Homeowners
Citizen Groups
Municipalities and Municipal Boards/Commissions
Non-profit Organizations
HOME
|
JEFFREY ROELOFS
|
ELISABETH DeLISLE
|
PRACTICE AREAS
|
CLIENTS
|
CONTACT
The information you obtain at this site is not, nor is it intended to be, legal advice.
You should consult an attorney for individual advice regarding your own situation.
Copyright © 2007 by Law Offices of Jeffrey L. Roelofs, P.C. All rights reserved.